Mohegan Bahais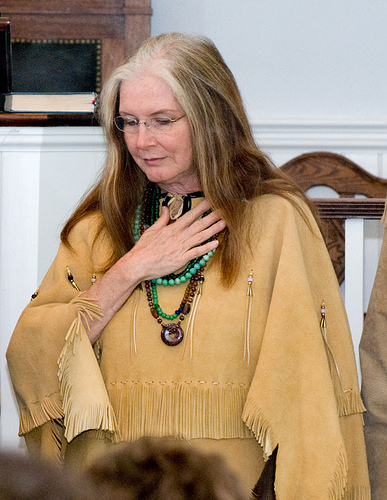 Stephanie "Morning Fire" Mugford Fielding
First Mohegan Nation Baha'i
(Photo by Charlene Harris)


Stephanie "Morning Fire" Mugford Fielding the first Mohegan Baha'i declared in 1964 when she was eighteen years old.
She declared as a Baha'i in Honolulu, Hawaii. Her father's family are Native Hawaii and she was born and raised on the island of O'ahu. She has served on many Baha'i Local Spiritual Assemblies, the Baha'i Western Regional Committee (predecessor of the Regional Councils now in existence).
During the late 1960's and early 1970's, she and her then husband Duane Troxel, lived in Nigeria twice. One of those times was during the Biafran War. During her time in Nigeria she also served on the Baha'i Emergency Administrative Committee of the National Spiritual Assembly of the Baha'is of West Central Africa (Nigeria, Dahomey (now Benin), Togo, Ghana, and Niger)
Stephanie has a wide-ranging background of experience and interests, and has lived all over the United States and abroad. Her experiences have put her artistic talents to work as a teacher, writer, editor, graphic artist and radio announcer. She has also served on the board of directors of educational institutions, media outlets, non-profit organizations, and religious organizations. In 2002, she received a Bachelor's degree with honors from the University of Connecticut with an emphasis in linguistics and anthropology. She continued her education at MIT (Massachusetts Institute of Technology), gaining a Master of Science in Linguistics in 2005.
She serves the Mohegan Tribal government as Vice-Chairman of the Council of Elders. She is also actively involved in the resurrection and instruction of the Mohegan language. According to Stephanie: "I am a Mohegan who is trying to reclaim and resurrect our language one hundred and one years after that last native speaker died....Personally, my native roots spring from both Connecticut and Hawaii and during my teenage years in Hawaii I discovered the Baha'i faith. One of the interesting principles of the faith that brings me to where I am today is the need for a universal auxiliary language. Auxiliary implies that first languages are maintained and the auxiliary language is the helper. Because of this, as the Baha'i faith spread across the world we have been making it a practice to help preserve the languages in those countries where the faith was taught."
Presently she lives on the Mohegan Reservation in Uncasville, Connecticut (the town is named for her ancestor Uncas - see below). She serves as an Assistant to a Baha'i Auxiliary Board Member for Protection. She has three children and five grandchildren who live in Colorado.
---
Uncas
Sachem and Statesman of the Mohegan
The early 1600s was a critical time of change for Connecticut tribes. The pressure from rapidly expanding European settlements created competition for land and resources, while disease was decimating Indian populations at an alarming rate. Within the Pequot Tribe at that time, a dispute erupted between the Pequot Sachem (head chief) Sassacus and Uncas. Uncas left with his followers, calling themselves Mohegan, or Wolf People, like their ancestors. Each tribe had its own idea of how to deal with European conflicts.
Uncas (1598-1683) became Sachem of the Mohegan Tribe, which favored collaboration with the English. The Pequots under Sassacus chose to fight them, with other local tribes taking sides. Seeing the loss brought on by continued fighting, Uncas befriended the European invaders. This controversial decision left Uncas and the Mohegans in an uneasy alliance with the English in an ensuing war with the Pequots. But staying true to their word, the Mohegans helped the English defeat the Pequots.
Uncas settled his people in a village at Shantok, which the Tribe defended from a Narragansett invasion sparked by European as well as Indian conflicts. Finally, the Mohegan Tribes affiliation with the English kept its people relatively safe during King Philips war and beyond.