Yakima Bahais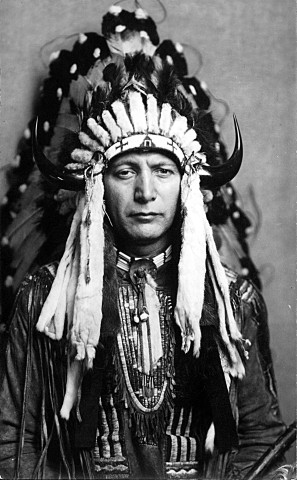 Nipo Strongheart - Yakima Nation Baha'i
Nipo Strongheart (Chtu-Tem-Nah) Yakima Nation declared as a Baha'i between 1961-62.
Born May 15, 1891 in White Swan, Washington State and died December 30, 1966 in California
In an article titled: "Great Council Fire - Proclamation to American Indians" published in Baha'i News 1963 Nipo is cited: "...Nipo T. Strongheart, venerable Yakima Indian of seventy-six years, termed his acceptance of Bahá'u'lláh "an acknowledgment rather than a declaration." He recalled that his father had taken himas a young man into the towering forest of the northwest and sitting beneath the majestic trees, had related to him the universal Indian tradition of brotherhood, counselling [sic] him, "The birds sing different songs, but they fly in the same sky; the trees have different bark and bear different fruit, but all grow from Mother Earth."
As a child he and his father toured with Buffalo Bill's Wild West show as bare back trick riders. Nipo was 10 or 11 years old.
He was the first Native American to enlist in the provisional regiment which Roosevelt recruited in 1917. Nipo along with 18,000 other Native people served in the world war.
He was a noted actor and technical advisor to Hollywood especially regarding films about Native Americans.
He helped form the National Congress of American Indians and it is said he authored the Indian Citizenship Act of 1924 signed by President Coolidge. He was a field representative for the Society of American Indians and accompanied the Yakima delegations to Congress in the 1930-50s.
Cecil B. DeMille wrote and produced a biography of him.
There is so much to say about our relative Nipo Strongheart and I'll add more as soon as I can.