Native American Baha'i Institute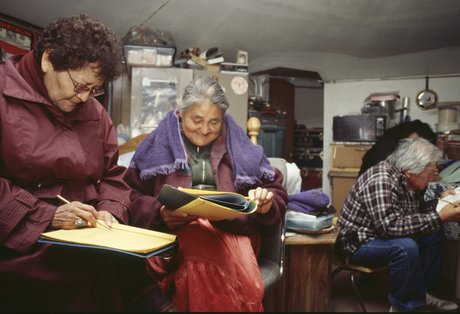 Study Circle at the Native American Baha'i Institute
(NABI)

The Native American Baha'i Institute
830 Burntwater Road, PO Box 3167,
Houck, AZ - 86506
Telephone: (928) 587-7599
nabi@usbnc.org


The Native American Bahá'í Institute (NABI), located on the Navajo Nation Reservation in Arizona, is one of five permanent Bahá'í schools in the United States of America.
In 1978 some 60 Native Bahá'ís and their friends (40 of whom were from Navajo-Hopiland) attended the U.S. Bahá'í National Convention at the invitation of the U.S. National Spiritual Assembly to honor the achievement of winning the first goal of the 5-Year-Plan — the establishment of 25 Local Spiritual Assemblies on Indian Reservations.
One of the speakers at National Convention that year was Auxiliary Board Member Nancy Phillips. She spoke to the Convention as all of the Native friends were honored on stage to standing ovation, "To the Indian people, the drum represents the heartbeat. Here before you is the heartbeat of the body of the Faith in this country."
At that time the friends' conveyed to the Convention: they wanted to build a "Bahá'í place" on the Navajo Reservation, and they wanted the Convention to show their support. With the assent of the Convention, the National Spiritual Assembly members hurriedly met and announced their approval of this new institution. Two years later, the Burntwater, Arizona property was secured and the institute became manifest. Named the Native American Bahá'í Institute (NABI) by the National Spiritual Assembly, NABI was designated an agency of the National Spiritual Assembly thereby becoming one of the five permanent school and institutes. Over the years it has been focused upon various goals. Since 1998, it has been designated a Regional Training Institute by the National Spiritual Assembly, and has been immersed in advancing the goals of the Training Institute process among Native Americans.